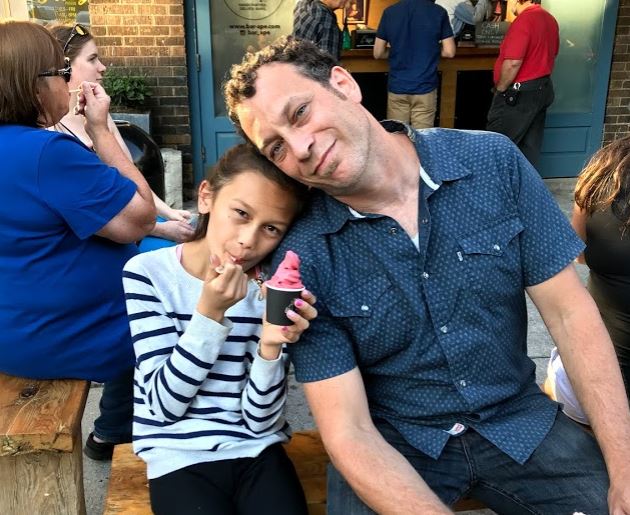 Jamie Alexander has always possessed an entrepreneurial spirit, so it's no surprise that when his daughter, Ruby, now 13, needed something the market didn't offer, he decided to manufacture it himself; what might be more surprising, however, is that once he did, she evolved beyond simply the inspiration behind the brand, to his business partner. From the time she was born, Ruby was a gender-creative child, as Jamie likes to say, and at 9 years old, after receiving both parents' encouragement, she made the choice to transition.
At 11, however, when the family decided to take their first trip abroad, Jamie was concerned over Ruby's safety in her preferred bikini with the current standard bottom options available to kids, all of which lacked the coverage she needed. Board shorts it ended up being, unfortunately, for that trip; once they returned, however, Jamie immediately began working on how to solve this problem for both her and all the other trans kids he imagined faced the same issue.
And so, Rubies was born: the first formfitting line of bikini bottoms and underwear specially designed for trans kids, so
every trans girl has the freedom to be who she is, wherever she is – and to shine
Each pair of Rubies sent out contains a handwritten postcard by Ruby herself, with a positive message so the recipient knows there's someone else out there who understands, and supports them—which can sometimes be even more important than the actual swimwear they've ordered. Ruby's role doesn't end there though; aside from also being the main model to tailor the designs to and face of the brand, she also does product demos and media pitches. Last November, at a meeting with Shopify for socially conscious businesses, she was the one to petition their current GoFundMe campaign to raise money to send Rubies for free to people who can't afford them; within 24 hours the company had organized and raised over $20,000 for them.
Challenges arise, however, when Jamie tries to take things one step further and help Ruby develop more of an understanding of what it means to run a business, like the importance, for example, of taking media opportunities seriously rather than being something to choose or deny on a whim.
It's quite a journey for us to figure it out, and not have it get in the way of our father-daughter relationship
"And a lot of it is me kind of bringing her along for the ride and hopefully, giving her some insight she can use in the future if she wants to start a business of her own." Aside from what she contributes to Rubies, it appears she has started taking some of his advice to heart, he says, as recently she's begun to develop side projects of her own, such as reselling choice items from thrift stores by creating her own online shop as a way to earn extra spending money.
"The bottom line is that, overall, she's just like any other tween," Jamie laughs. "She craves attention and wants lots of friends—and when she gets them, she holds on tight. She wants to be singing, dancing, theatrical and exuberant rather than methodical and responsible all the time, which of course I understand and support. Most of all with her role in Rubies, I want to enforce the idea in her of how much she has to offer so she can do with it whatever she chooses. We're really proud of her for introducing us to a world we knew nothing about; her choice to be true to herself, to shine in exactly the way she wants to, has not only inspired us as parents and individuals, but now, thanks to Rubies, given her the opportunity to inspire kids like her all over the world who really need her kind of light to remind them of their own."