Alfred Muli is not just the proud father to his three year old daughter, Ayn, but an active feminist whose life's work has been dedicated to advocating for and raising awareness around women's issues as well as encouraging more men to do the same. Inspired by his grandmother and supported by women in his family from a young age, he grew up with tremendous respect for the strengths he saw in women that were often disregarded within the culture.
In 2014, he began working for WASH United, a German NGO with a focus on menstrual health and hygiene, and together they established May 28th as the official Menstrual Hygiene (MH) Day. He became the first national coordinator for MH Day for  his country, able to raise awareness around menstrual health and the importance of education around the subject.
From there, his efforts continued with Zana Africa, a social enterprise that manufactures disposable sanitary pads, where he managed an extensive study in 140 public schools at the Kenyan Coast, Ruby Cup, a sustainable and reusable menstrual cup producer, USAID WASH Pals Project at Iris Group, where he managed  a research project that looked at how menstruation is treated in the workplace, and Street Business School, which offers entrepreneurship training with 180 partners spread across 27 countries for women to start and grow small businesses.
COVID also reconnected him with a few old friends and together they launched Unlearn Innovation Hub, a social enterprise whose platform is dedicated to unlearning the things you were socialized to believe before you had a chance to question them with an open mind. In 2022, on Menstrual Hygiene Day, his team traveled on what they called a 'menstrual road trip' between Nairobi and Nakuru making stops to educate more than 300 girls and 50 boys on menstruation. The menstrual road trips will continue to happen once every quarter.
Normally, our stories focus only on the relationship between the father and his daughter, but in Alfred's case, his efforts show he's fathering far more women than just his Ayn, and inspired us to share all the work he's doing to make the world better for women. At Dads of Daughters, our goal is to reinvent "father" or "fathering" as a verb to carry the same connotations "mothering" does — a nurturing, supportive energy that bolsters you up whenever you need it.
Alfred, however, will be the first to admit that he often feels like he's learning a lot more from Ayn than she is from him.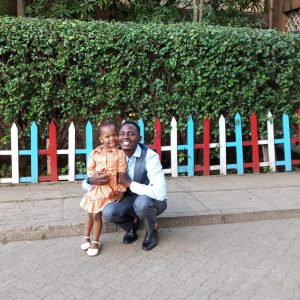 For instance, she knows how to live in the beauty of a moment, which is something as adults we feel restricted to do, to the point where it feels impossible sometimes.
"When I'm out with her though, she opens the world up to me again —- the colors, the textures, even the cars. Enjoying what's right in front of you rather than wishing for something else. These are the things we should be doing more often."
He and his wife Faustinah, whom he credits with being instrumental in helping him be the best man, father and husband he can be, both encourage her instinct to explore whatever may catch her interest, regardless of social norms or gender roles — for example, her recent inclination toward adrenaline rush inducing gymnastics thought to be more appropriate for boys.
And while he worries sometimes that some of the inherited trauma from the past might inadvertently spill over onto her as she grows up, he tries to instill enough resilience in her so that she will always know what is hers to take on and what is not to avoid ever being negatively impacted by anything he's experienced.
From all of us at Dads of Daughters, we thank you for sharing your story and your work with us, Alfred, and for all you do for the women of the world and with the hope of inspiring more men to do the same!
For full audio with transcripts click here