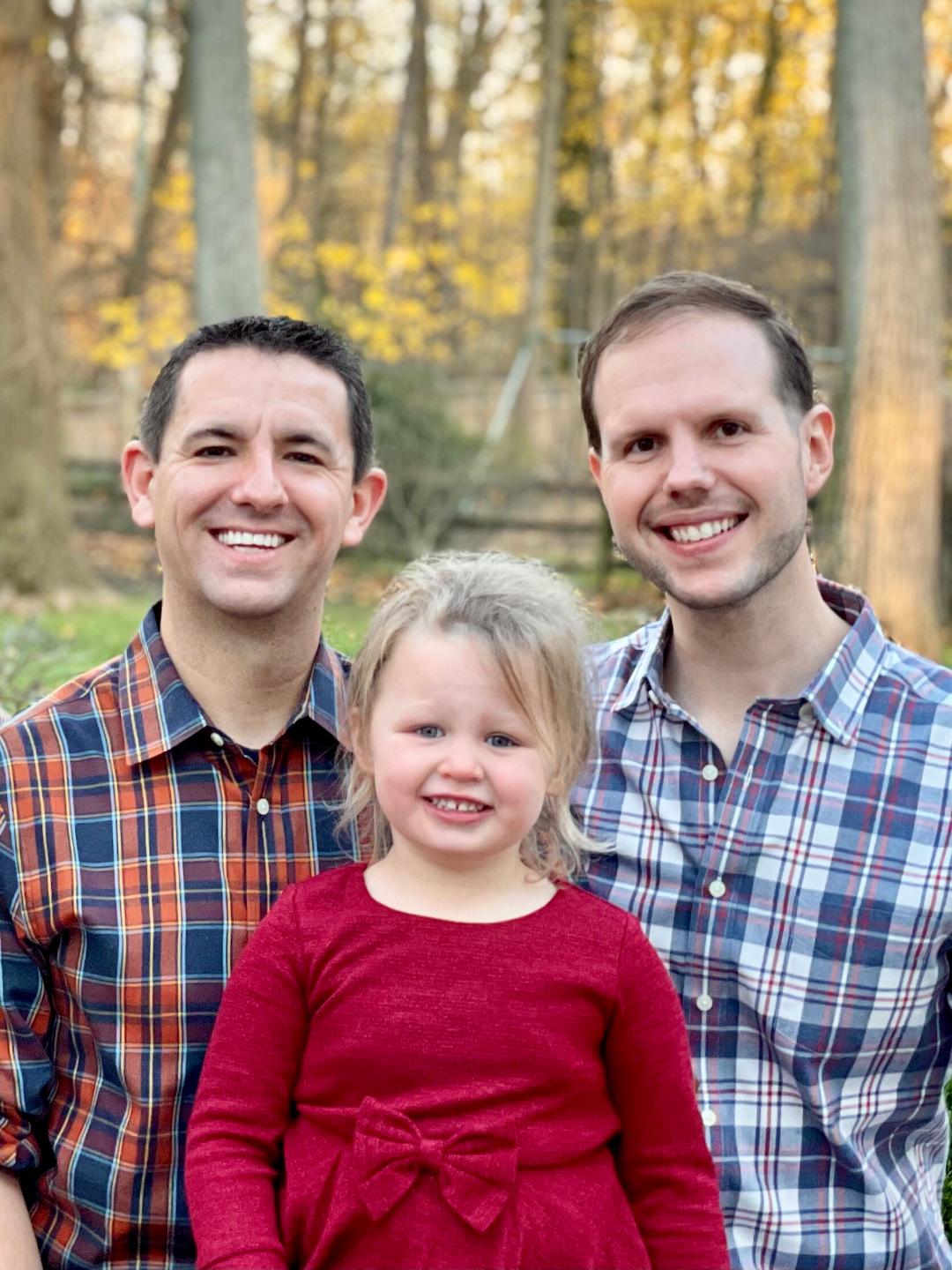 In 2015, after roughly two years of marriage, Mike and Jamen decided to make it their year of travel; beyond simply wanting to explore as many of their shared dream destinations as possible together, they'd already begun discussing the idea of adoption and wanted to see more of the world before welcoming a child into their lives. "I love telling this story," Jamen laughs. "Because everything just kind of came together in one of those rare, idyllic ways. We filed the papers as soon as we got back and roughly nine months later, we got the call. It was a Friday afternoon and our social worker told us there was a baby girl whose mother had chosen us and we could pick her up that evening if we said yes.
We got in the car, drove two hours to get her, and by 8pm that night, she was home with us and we were dads.
The biggest challenge so far for them has been the recent move this year from Florida to Pennsylvania for a new job Mike was offered amidst the COVID-19 pandemic; beyond the obvious logistics, Madison, now 4, had to leave behind a close friend whom she was used to seeing every day. Fortunately, she was able to begin Pre-K right away with only minimal distance learning, for now, which has helped her understand they aren't going back to Tampa—a question that was part of daily life for awhile.
"Honestly, we had thought on some level she would just forget," Mike explains. "But even though it didn't turn out like that, she's accepting this is her new home and loves all the social interaction she gets at school, even with the COVID restrictions. She's never complained about wearing a mask—and while, sure, she doesn't know exactly what's going on, she's aware it's something we just have to do now to stay safe." Despite her compliance, Madison is definitely ready for COVID to be gone though, as exemplified in a recent letter she wrote at school with her number one hope for the world this year:
Pack COVID in a rocketship and send it to Pluto.
Mike and Jamen will both readily identify as Type-A personalities but, aside from this, admit to having different yet complementary strengths and interests overall—-something they consider a definite plus when it comes to parenting. Their daily routine, for example, developed naturally from what they each most enjoy doing with Madison: in the morning, Mike leaves for work, a cardiologist at a local hospital, and Jamen, who works from home, spends the day with her, when she's not at school, encouraging her to help him around the house with anything she shows interest in, from cooking and cleaning to minor home repairs.
"We each have our own beautiful, personal connection to her that's separate from the one we share together"
Mike tells me. "I work long hours at a very demanding job and sometimes I feel guilty for not being around as much.  But when I open the book we've chosen that night and start reading the story before she goes to bed, she understands that's our time and there's nowhere else I'd rather be."